WELCOMING CAROLINE DINENAGE
Minister of State for Digital & Culture Visits Site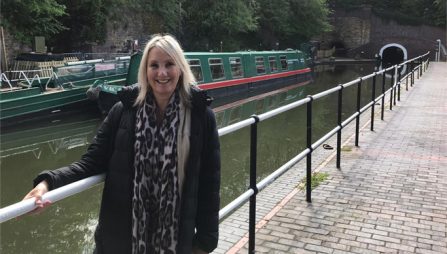 Dudley Canal and Tunnel Trust were delighted to welcome Caroline Dinenage the Minister of State for Digital and Culture to site on Monday 17th May in support of its reopening and to see how the DCMS Cultural Recovery Fund has helped support us during the pandemic.
Also in attendance were Eilis Scott from Historic England and Councillor Patrick Harley, Leader of the Dudley Metropolitan Borough Council. Staff and Trustees took the guests on a tour of the underground caverns and tunnels and showcased the new Hurst Cavern display along with the added interpretation on site, including the soon to be opened Little Skippers Play area.
The Minister stated that DCMS through #HereForCulture has been here for culture through the horrific lockdown period and now they want people to be able to come back to embrace these amazing visitor attractions and fantastic historic sites and to be really able to enjoy them and the stories they have to tell.
Patrick Harley said "I'm incredibly proud to welcome the minister to Dudley today, our town is a hive of exciting regeneration activity and we have a proud cultural and industrial heritage that forms a significant part of our visitor economy. Dudley council has worked closely with Dudley Canal and Tunnel Trust over the years and we have helped to secure multi-million pound funding for this popular attraction, which forms an important part of our rich natural and industrial history."
Jeff Luesley, Chairman of Dudley Canal and Tunnel Trust said he was thrilled that the minister, Historic England and the Council had chosen to support the reopening of the Trust in this way. Working in partnership and being a vibrant part of the community were an integral part of how we operate and that he and the Trustees all echoed the sentiments of all the staff and volunteers in their excitement at being able to again welcome back our visitors.