The Journal of the Dudley Canal & Tunnel Trust – No.258 – Spring 2021
Dudley Canal and Tunnel Trust
501 Birmingham New Road, Dudley, DY1 4SB • Tel: 0121 557 6265 • www.dudleycanaltrust.org.uk
Dudley Canal & Tunnel Trust is a Registered Charity No 1166460
President
Alan Garnell
Trustees
Chairman  Jeff Luesley
Treasurer/H&S  Paul Smith
Trustee  David Caunt
Trustee  Richard Langford
Trustee  Kate Bennett
Trustee  Alan Hazeldine
Trustee  James Deacon
Enterprises
Chairman  Paul Smith
Director  Alan Hazeldine
Director  Lyn Head
Director  Ian Watson
Director  Traci Dix-Williams
DCTT Working Group
Mike Skidmore, Alan Hazeldine, Bob Dale
Bob Mullen, Chris Round

Membership  Richard Jones

Work Parties  John Rudge

Archivists  Mike & Hilary Skidmore

Legger Editor  Traci Dix-Williams
Staff
Chief Executive  Traci Dix-Williams
Finance & Admin'  Manager Diane Griffin
Volunteer Coordinator  Becci Cooper-Sayer
Operations Manager  Becky Wright
Catering Manager  Peter O' Toole
Commercial Manager  Matthew Dix-Williams
EDITOR'S NOTE
Thank you everyone for the feedback on the Legger over the last couple of months, in this period of flux its good to keep continuity in some areas.
Just like to cover photo shows we are starting to see some hopes of a new and fresh year here at the Trust so keep your fingers crossed it continues to bloom for us.
Please have a think about content, photos or amusing anecdotes and recollections we can include in our editions, all contributions are greatly received. Keep safe.
Articles for the March edition need to be in by Friday 14 June 2021. Send them to traci@dctt.org.uk.
Cover Image – The portal in spring
The views and opinions expressed herein are not necessarily those of the editor or Dudley Canal & Tunnel Trust.
Chairman's Report
CEO Report
1971 The year of disaster and decision
The Silurian Caverns 3d Scan Project
From the Archives
Nasa – Mars
British Association Poem
A Little Nostalgia
Volunteers
Boat Parties
Socials
Membership Matters
We are soon approaching one year of having to close the business due to the impact of Covid-19. At the time no-one foresaw how long we would be closed and what the impact of this would be on the economy, how we lived, our vocabulary (we have certainly learnt some new terms – social distancing, rules of 6 etc) and our health and well-being. But also – how we were prepared to dig deep and battle to save everything that is important to us and this very much includes Dudley Canal and Tunnel Trust and everything and everyone associated with it.
We are still here, we are not just surviving but we are adding to our offer, remodelling our operations, and doing everything we can to be a resilient and robust business and attraction going forward. The grants and financial support we have received have been invaluable but it is also the fact that these organisations, The Lottery Fund, Heritage Fund, Historic England, and Dudley Metropolitan Borough Council also recognise our value and our contribution to culture and so want to help us protect it for the future.
We know we still have a long way to go and battles still to fight but we must not lose sight of everything we have achieved in the face of unprecedented challenges. Changes will have to be made; it is inevitable. Few businesses, societies and attractions will simply return to life and operations as they were. But we should not shy away from this or see it as a negative, as we have learnt – change can also bring so many rewards. As a Trust we have had to change and adapt many times over the years – we have sadly seen the consequences of organisations unable or unwilling to do this. What does not alter however is our ethos – we must protect and preserve this unique area and engage everyone with its amazing legacy, its stories, and its beauty.
Jeff Luesley Chairman
We would like to take this opportunity to thank all the organisations who have supported us during this difficult time be it through grants, financial packages, specialist advice. This has all helped to keep us operating and moving forward.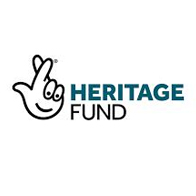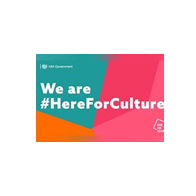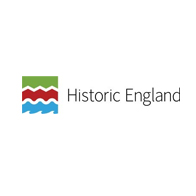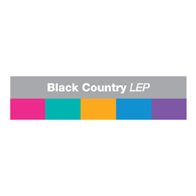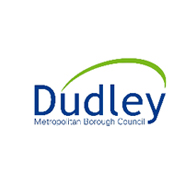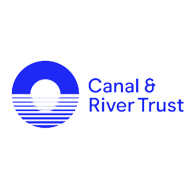 So, we are now in March, we are still in lockdown and sadly for us, we still cannot take people into the tunnels till May. Its frustrating to report this, we have worked so hard to do everything we can but at the end of the day the safety of everyone is paramount. So, we will put our frustrations aside and continue to be productive with the time and make a big difference on site.
Anyone who follows our social media will see the team have done a great job in getting the boats set up for the season, their paintwork is gleaming and they have all been deep cleaned and new lights and equipment has been fitted to them. Fencing has arrived on site to extend the visitor access and new signage is coming to interpret the lime kilns, the historic boats, and the visitor welcome. We have purchased (through a grant) a children's play boat and this will have wall mounted learning activities all around it, so our "Learn Through Play" project located outside will finally be realised. The shop fittings have been sanded and varnished and are no longer dust traps (though we now need to deep clean the building) and the staff have begun laying the shop out and getting their sales display together.
We are no longer at the Pump House at Blower's Green – the lease has ended and we took the decision not to renew. A massive clean up was undertaken to clear everything out, find new homes and get the place decorated – well done to all involved, it was an amazing effort and we must get the reward for most creative skip given what was in it.
Our digital Chit Chat and Tunnel Tots continue and the team have put an amazing array of content and activities together for this. Our social media has really picked up a pace and shown a wide range of the activities, history, stories and selling points of the Trust. There has been some great comments and feedback on this. Work has been going on to better promote us on our Google site and some amazing pictures taken by the team have been added. Please take time to go online and see all these efforts.
Plans are in place to open on 12th April for open water trips and an outdoor catering offer, we will also be adding a boat trip and a dine offer for £15 which we hope will be very popular. Work has begun coming in from our consultant and professional service providers – this covers marketing and branding, education, catering and business development, promotion, and IT so we will be rolling out their recommendations, without the support of the Culture Recovery Fund this would not have been possible.
We are currently inducting new Trustees and Directors and they all bring experiences, knowledge, and passion with them so this will really add to our plans for moving forward. This short piece does not encompass in any way all the work we have been doing but I hope it gives you a taste and I look forward to showing it to you all on site.
Please continue to tell everyone to visit us, even if it is just to grab a cup of coffee.
Traci Dix-Williams – Chief Executive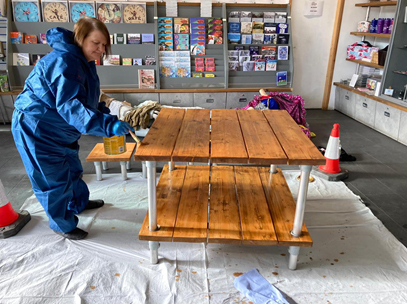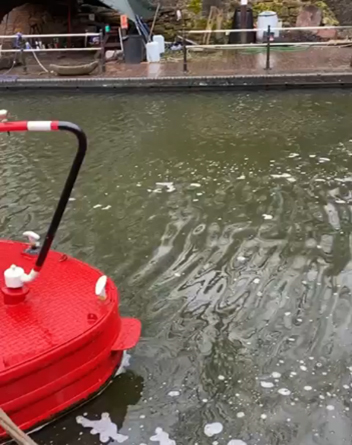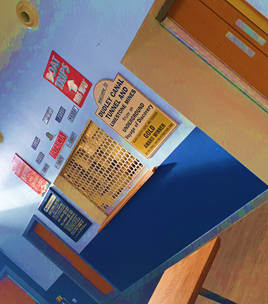 1971 the Year of Disaster and Decision
Having received a sort-of temporary period of approval from the Government body (Board of Trade) to carry on tripping through the tunnel with our existing people-propelled boat, we accepted a further two dozen parties over the winter of 1970/71 to trip through the tunnel up to August.
We started the season a little earlier than usual (March usually) with a large group of G.P.O. Electrical Engineers from the Walsall area, on 21st February. They went from Tipton to Parkhead and we had a return trip back to Tipton at 2.30 with St. Catherine's College from Oxford.
However, ten people from the Peak Forest Canal Society were in the area looking around the Black Country and just happened to be at the bottom of the Parkhead locks as we were turning the boat round at the top and asked if they could join us for the trip back! Never one to turn people away, naturally we said come and join us! As though that wasn't enough of a coincidence, a group of Halesowen Boy Scouts (12, from memory) came down the bank from the main Stourbridge Road onto the towpath just as we were setting back into the tunnel and their Leader asked if it was possible to join us as he had always wanted to see the inside of Dudley Tunnel, as he had been taken through the Gosty Hill Tunnel (Dudley No. Two Canal, Halesowen) at the end of last year. Naturally not wanting to disappoint anyone we let them clamber aboard and eventually we set off into the tunnel. A total of 75 passengers and around nine Crew made a pretty full boat, it also rose our average income for a Sunday double-party trip from around £7-8 to some £16+ including sales of books and badges!
March saw Tividale School and Old Swinford Hospital Boarding School on the 14th, we organised a working party of Members to do brick-replacement and vegetation towpath clearance on the 20/21 and a party of fifty children from Wiltshire came through the tunnel on the 28th, with a return trip of Members and friends in the afternoon.
Trips through the tunnel continued throughout the Spring from several local groups – Staffs & Worcester Canal Society, B.C.N. Canal Society, Inland Waterways Society, Smethwick Car Club(!), Staffordshire Council's Pendrell Hall College, Dudley Library Staff Guild, Tividale Primary and several dozen individuals/families.
Then it all came to a sudden and most unexpected halt.
I gave a talk to Stourbridge P.T.A. on 30th June in conjunction with their booked trips on 3rd July (two one-way trips of members and families).
Unfortunately, Dudley had an horrendous rainstorm from 6-7p.m. on the Friday 2nd, which flooded parts of the town and in particular Castle Hill and the limestone mines.
Not being aware of the subterranean damage done during the storm we set off into the tunnel on the Saturday morning and got as far as Hurst's Cavern (about 460 yards into the tunnel). There we met with the unprecedented sight of a completely blocked tunnel, as the loose rock floor of that cavern had been swept out and into the canal, to a height of over a foot above normal water level. We had no choice but to return to our starting point and offering the organiser a return trip when the tunnel had been cleared (which they did, but not until 1974)
After a thorough investigation by ourselves and the Chief Engineer from Dudley Council (the owners of the limestone mines) we found that a large quantity of silt and rocks had been dumped into Castle Mill Basin, Shirts Mill Basin and Cathedral Arch inside the tunnel, together with fine silt settling in the Tipton (Lord Ward's) Tunnel and for quite a distance along the open approach canal as well.
Obviously, tunnel trips could not commence again until all this material was somehow removed – so at an emergency (and lengthy) Committee meeting shortly afterwards it was decided that logically full restoration of the whole of the tunnel branch and Parkhead locks was the next big step in our long-term plan to reopen the tunnel was needed.
We spent the rest of the year planning how we were going to accomplish this mammoth task, especially as a good part of it was underground or in deep Basins! We started a Restoration Appeal to various Charities and other commercial bodies with a moderate immediate success, supported by Dudley Council in 1972 to the sum of just over £4,000, but to be spent specifically on the Parkhead locks.
As we didn't have anything physical to do, we decided to help the fledgling Friends of the Black Country Museum organise and very much take part in clearing the canal arm into the proposed Museum during the first weekend of October. Entitled "The Dudley Dig-In", it attracted over 300 local and distant enthusiasts each day, and with considerable help from midlands-based Murphy Bros equipment, the "L" shaped canal arm was transformed from totally blocked to navigable.
We ended the year with plans set for the restoration to start on Saturday 1st January 1972 – but that's another story for another time!
Richard Jones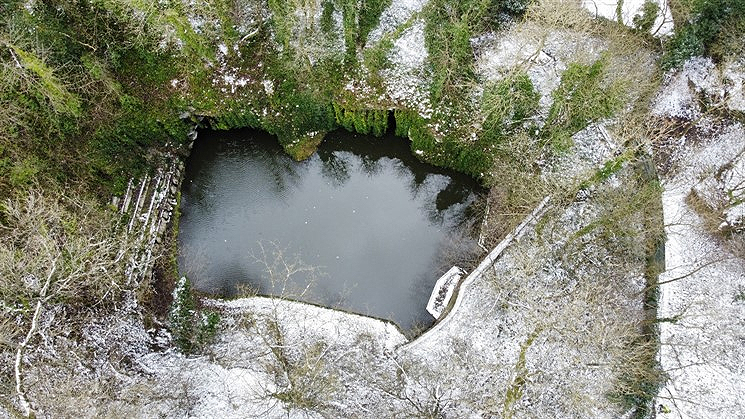 Drone Image – Castle Mill Basin Peter O Toole
During lockdown we have used the time to develop a whole new range of content for our social media, from Digital Chit Chat and Tunnel Tots to #ThrowbackThursdays on our Facebook site.
If you have not checked out the site here is the link – DudleyCanalTrust
or look us up on – www.facebook.com/DudleyCanalTrust
Keep adding your comments, it's been fascinating to read them and get an idea of involvement over the past and hear the stories people have to share.
Silurian Caverns 3D Scanning Project
Work began in February on a Historic England funded project to laser scan the tunnels, cavern, mines, above ground and underwater areas which Dudley Canal and Caverns operate in. This is an ambitious and unique project – probably the first in the UK, because of the many complexities and challenges it involves.
A wide timeline in terms of the infrastructure, a range of materials to scan – brick – each of varying kinds, limestone, shale, shotcrete, concrete, wood, glass, metals, smooth surfaces, rough surfaces, layered surfaces all from a boat which keeps moving and thanks to SCCS we are using cutting edge technology and equipment. Though this is above water, and no one wants to be the person who drops the scanners!!!!
The Trust is working with Johnson Poole and Bloomer, Arup and SCCS to make the project happen and we will update you as we progress.
This is a £50,000 investment into the infrastructure at a time when funds are being held onto so it is a great opportunity for us and the realisation of a long-term aims of the Trust.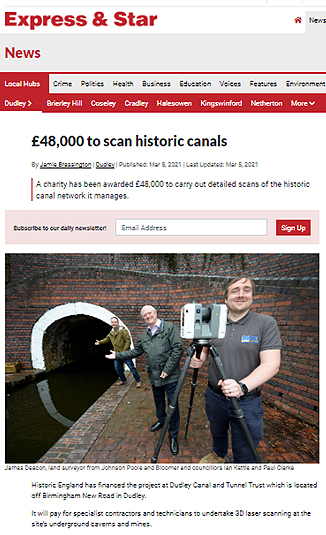 From the Archives – Lord Ward's Canal to Dudley Junction. The Limekiln Branch and the Link Canal.
The open canal between the Tipton portal of Dudley tunnel and the Old Main Line of the Birmingham Canal is part of a branch built privately by John, 2nd Viscount Dudley and Ward to connect his limestone mines and kilns on Castle Hill with the Birmingham Canal at Tipton Green.
The Junction was made in 1778, five years after the completion of the canal from Birmingham to Wolverhampton. Access to the towpath was by a 'roving' bridge across the Birmingham Canal, 200 yards (183m) to the south near Pitchfork bridge. In 1885 a riveted iron structure replaced an earlier bridge which had been damaged by mining subsidence.
By the immediate post world war 2 years there was little traffic through the tunnel, and in 1947 the bridge was moved to Oldbury junction, at the start of the Titford canal, where it survived until the building of the M5 motorway in 1968/9. The Dudley towpath now ends abruptly near Pitchfork bridge.
The narrows near Dudley junction marks the site of a stop lock which maintained the level of the Dudley canal about 6 inches (150mm) above that of the Birmingham. The lock was originally situated within the
main tunnel complex near to 'The Well', but was moved in 1796, 4 years after the tunnel was completed.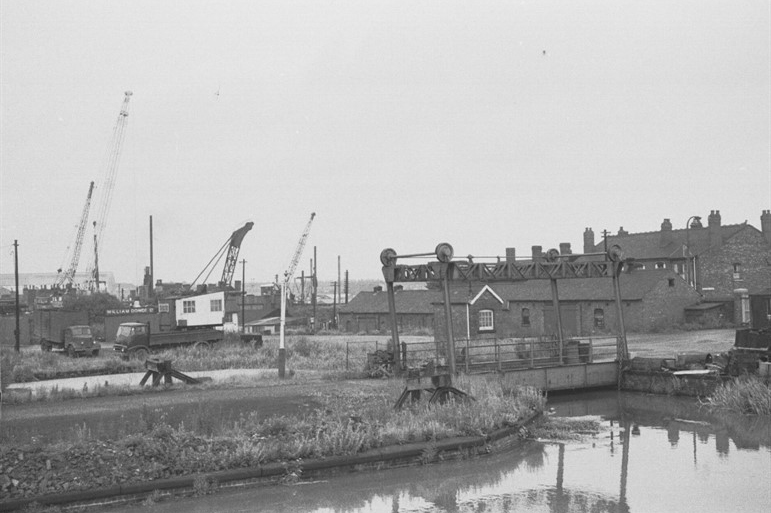 The stop lock remained in use until at least 1846, when the Dudley Canal Navigation became part of the Birmingham Canal Navigations. Between the narrows and Dudley Road bridge is Batson's wharf, previously used as moorings, and charging points for their fleet of electrically powered boats by Dudley Canal Trust Trips.
Beyond the bridge was the site of a long arm which led to Lord Dudley's Tipton colliery, responsible for much of the extensive subsidence around the junction; the effects of this can still be seen in the sloping courses of brickwork in the side walls of the bridge. It was rebuilt in 1856 with massive cast-iron girders inscribed 'Union Furnaces'. These were removed during 'Operation Bridgeguard' of the late 1970's when a number of bridges in the Tipton area were replaced due to the road traffic volume increasing and also traffic weights becoming heavier.
The area adjoining the towpath beyond Dudley Road bridge is the site of a small colliery which has been landscaped by Sandwell Council, ahead is the New Road bridge. The 'new' road from Birmingham to Wolverhampton, opened in 1927, was part of an ambitious scheme for improving road communication throughout the Black Country, although at the expense of traffic on the canal system.
Link Canal.
Beyond New Road bridge is a short arm built in 1849, connecting Lord Ward's canal to the Limekiln branch canal which now forms part of the Black Country Living Museum. This short arm's wide entrance
was originally spanned by an unusual wooden queen-post-truss bridge, which was affected by subsidence, and replaced by a lattice girder type around 1935. This in turn gradually subsided and deteriorated and eventually (with a little help from vandals) collapsed in 1971. This bridge was known by the early Trust members as 'broken bridge'. It has since been replaced by another bridge 'Browns Bridge', named after the late Mr. John Clifford Brown a BW engineer who was instrumental in the second re-opening of Dudley tunnel.
A unique 'lifting bridge', originally built for the GWR transshipment basin at Bloomfield, Tipton has been reinstalled over the canal on the museum site to allow boats to pass along the canal at the same time as allowing secured access to the museum site from the towpath. The bridge was originally built in 1922 by Armstrong-Whitworth & Main at Newcastle-upon-Tyne.
The Limekiln Branch.
The 553-yard (487m) Limekiln branch was constructed between 1837 and 1839 under the direction of the Trustees of the Dudley Estates, held in trust from 1833 to 1845. It was run in a straight line from Thomas Monk's boat dock on the Old Main Line of the BCN, (near Pitchfork bridge and what is now the area taken up by the back gardens of houses built between 1938-1941 at the end of Vernon Avenue) to the impressive row of Limekilns (built around 1842) within the Black Country Living Museum.
The part of this canal between The Old Main Line and the old water treatment site (sewage works) at the corner of Tipton Road and New Road was infilled sometime around 1939 as it is still shown on a 1935 photograph available on the Britain from Above website at: – (https://britainfromabove.org.uk/en/image/EPW048015/download).
The remaining part of the Limekiln Branch now leads from the Limekilns to the boat dock within the museum site.
Portions of this article have been obtained from notes written by the late Dr. J. Ian Langford.
Mike Skidmore  archives@dctt.org.uk
As you know at Dudley Canal and Tunnel Trust, we like to challenge our team and supporters and 2021 is no different for our former skipper and canal artist Tim.
Having made us a fantastic new "A Board" to go on the Black Country Museum site we asked him to go bigger – much, much, bigger and produce a gate sign for us that could hang above the access gate between the two sites – well he has done us proud.
Now all we need to do is get it back off Becky – she is very taken with it!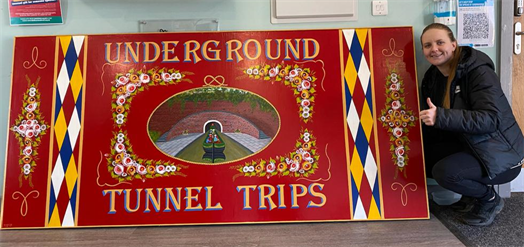 Hello Traci,
Many thanks for the Legger received last week it was reassuring to read that the Trust and Trips Company are not being too badly hit by this wretched virus.
Also fascinating to read of events long long ago, one of which I missed as I was in Australia, but the Dig and Cruise I well remember. I got the job of clearing the bottom gate cills of Parkhead bottom lock, which involved spending much of the day immersed up to my neck in water trying to make my feet do what hands are normally meant to do!
Pete Dodds.
Just a note to say well done on all your efforts. We know it can't be easy trying to stay open during this dreadful time but it looks from your report that you are fighting hard. Keep up the good work, we cannot wait to come back and see you all.
BR
NASA Mars – That Reminds Me…
The recent successful landing of the Mars mission to collect sub-surface samples to eventually bring back to Earth reminded me of a unique incident at Dudley.
I think it was during a Members Tunnel Trip on Sunday 15th October 2000, that our then-Trustee Dr. Ian Langford asked all the Committee and regular work-party members present on the boat to gather at the rear of the trip-boat. He then carefully brought out an envelope in which was a 2- inch square plastic sealed bag, and passing it to our then-Chairman, Vic Smallshire, said "have a good look at that and pass it round VERY carefully". It turned out to be a sample of moon dust/grit that was part of Birmingham University's allocation from NASA's Apollo 16 mission, from April 1972!
From what Ian said at the time and what is available from Wikipedia, 211 lbs. of moon dust/rocks were collected at the Descartes Highlands landing site and during subsequent 20 hours of the Lunar Rover Vehicle travelling over 16 miles.
Several world-wide Universities received an allocation for diagnostic research, and this was a small part of the Crystallography Department's portion, which Ian was in charge of.
Ian always had a good sense of humour and as he was retiring that year, he had decided that his position allowed him a little levity and trust and had decided to make the Dudley Canal Tunnel even more unique by having a small piece of the moon go through it!
With the Metro works due to take place on the viaduct as Blowers Green we thought it was a good excuse to show this amazing picture showing works on the locks, with the viaduct clearly on show in the background. It seems like work on the canal is never over – and that it always attracts spectators!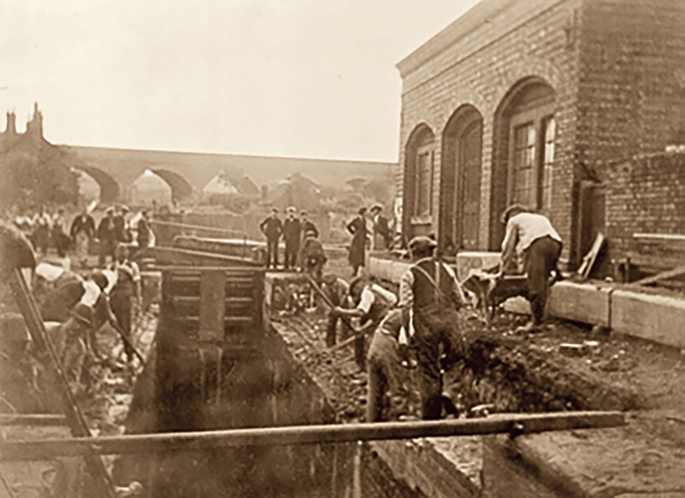 British Association Poem – From the Literary Gazette September 7th, 1839 Page 568
Come listen all as members be
Whether of sections A B C
D, or else of E F G
As go to Dudley by water!
Then at dinner such a rush,
As how from Birmingham we set,
Upon one Friday very wet
To gather stones and fossils get,
All at Dudley by water!
Skipping, dripping all the way,
Lots of swim and nothing to pay
Everyone with summat to say,
Going to Dudley by water!
Each philosopher so wise,
Then set out with staring eyes,
The little fishes to surprise.
As go to Dudley by water!
Not a soul behind did lag,
But with hammer and with bag,
Smashed at dyke, slip, fault and crag,
When they went to Dudley by water
Skipping, dripping etc.
Underground we then did go,
Candles round us in a row,
Such a flare-up and a show
All at Dudley by water!
Dr. Buckland then arose,
And the people there he shows,
What rum beasts in stone there grows,
In the caves at Dudley water!
Skipping, dripping etc.
Then at dinner such a rush,
Such a scramble, cram and crush,
Lots of grub and little lush,
All at Dudley by water!
And when we came back to town,
Was'n't it funny that we found
All this fun for half-a-crown'
When we went to Dudley by water!
Skipping, dripping etc.
Derek Gittings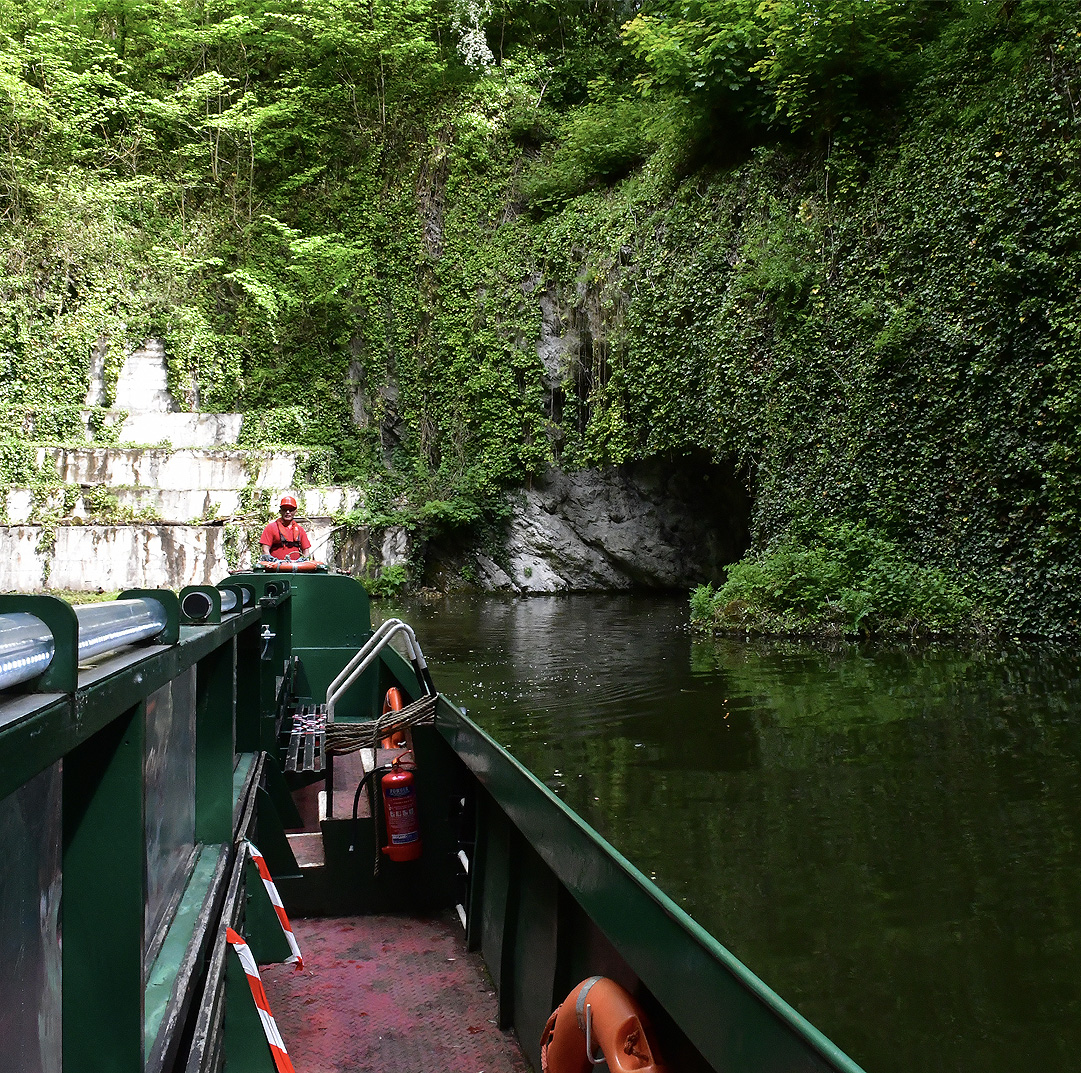 One very cold day in January 2003, the canal iced over, three members of the Dudley Canal Trust set off on the 4.4mile journey with two boats, GEORGE and ELECTRA, to BW's Bradley dry dock; both boats due for them out of the water maintenance, re-paint, and inspection. Below we have a pictorial account of the journey.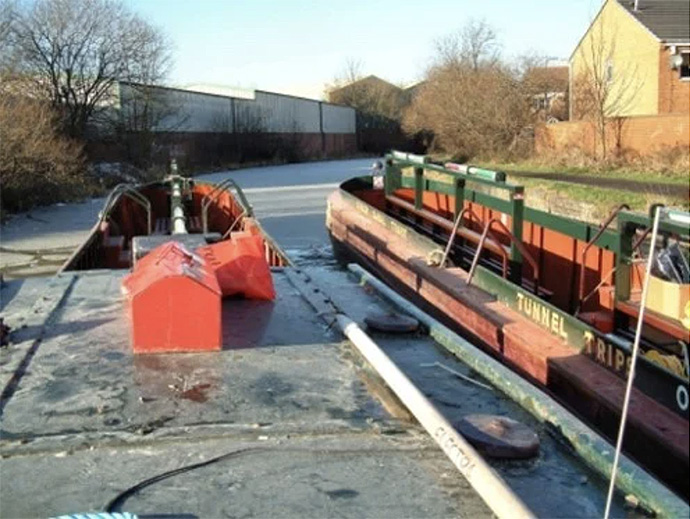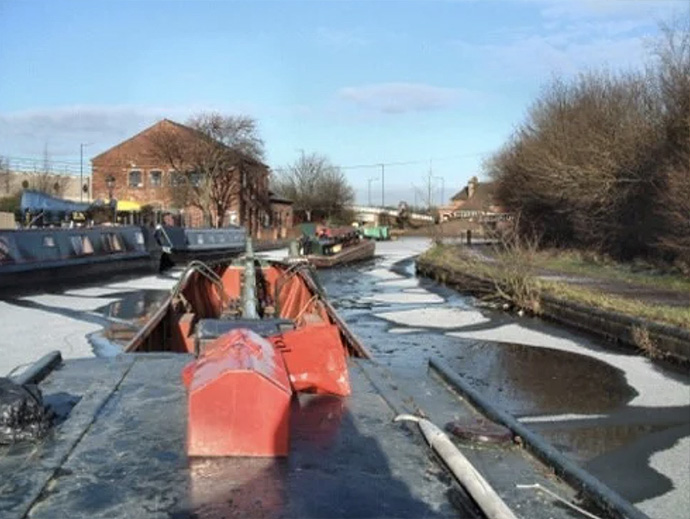 Well underway. Where possible boats abreast breaking through the ice more easy. Our DCT CEO June Hodgets at the forend of GEORGE and Metal Mickey at the tiller. Electra close behind, The Fossil at the tiller.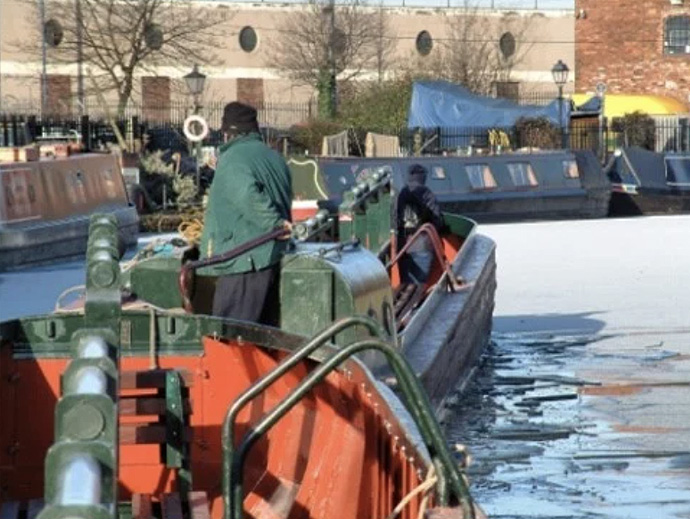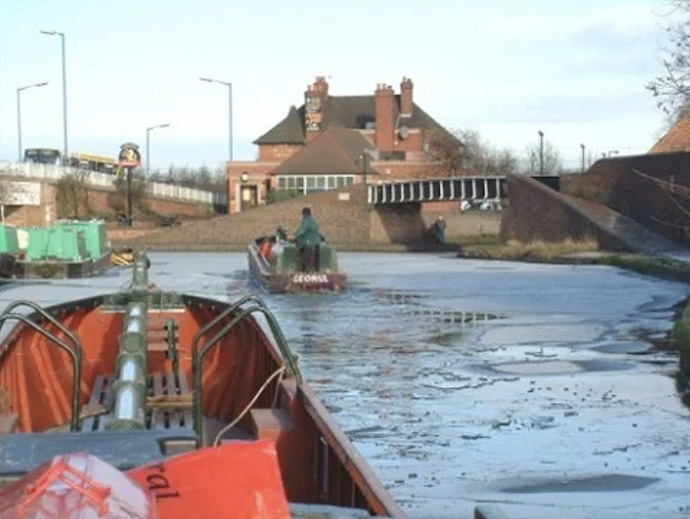 All going well as we approach The New Mainline junction at Factory Locks Tipton. At the junction we turn left onto The New Mainline heading towards, Coseley Tunnel, and Wolverhampton.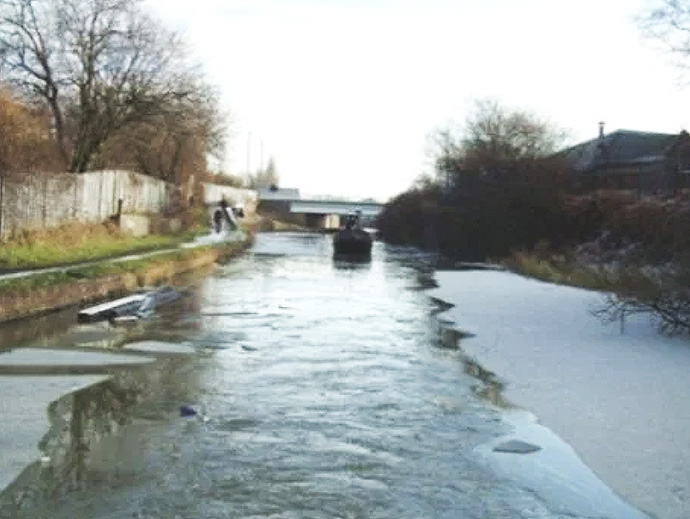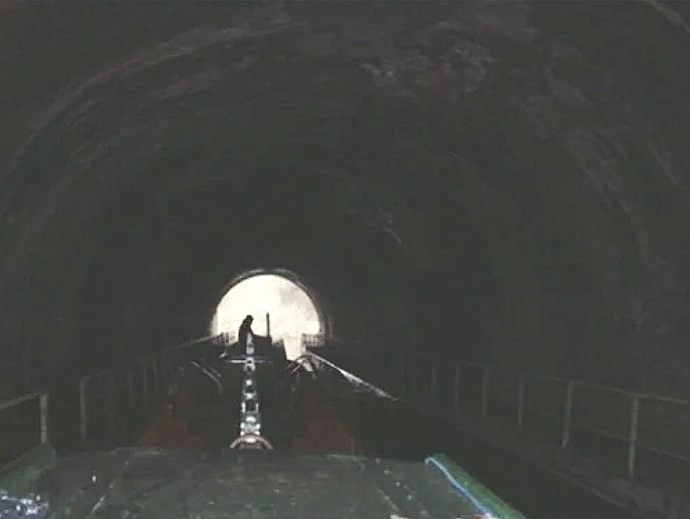 ELECTRA takes the lead for a while, GEORGE taking the lead again, in time for the passage through Coseley tunnel. We had little concern on this day, the temperature below freezing, too cold for yobs who throw stones etc at boats entering the tunnel.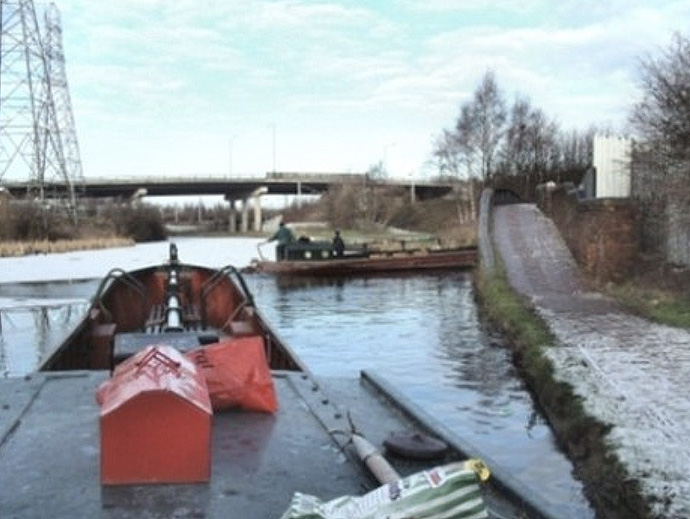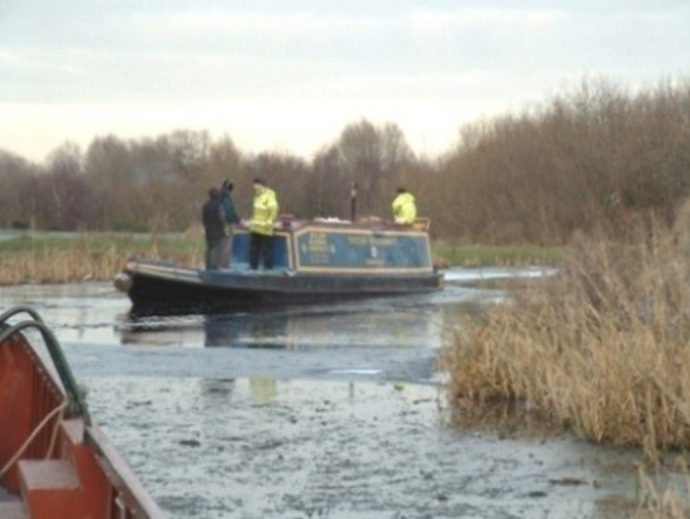 Turning right off the Mainline for the 1.75-mile journey to BW' Bradley wokshops and dry dock. We did not get far: ELECTRA lost power, flat batteries. A phone call to Mike, DCT's towpath head skipper "HELP." Mike made a call to BW and BW sent the cavalry, their tug NANSON, I think it should be NANSON II, not sure.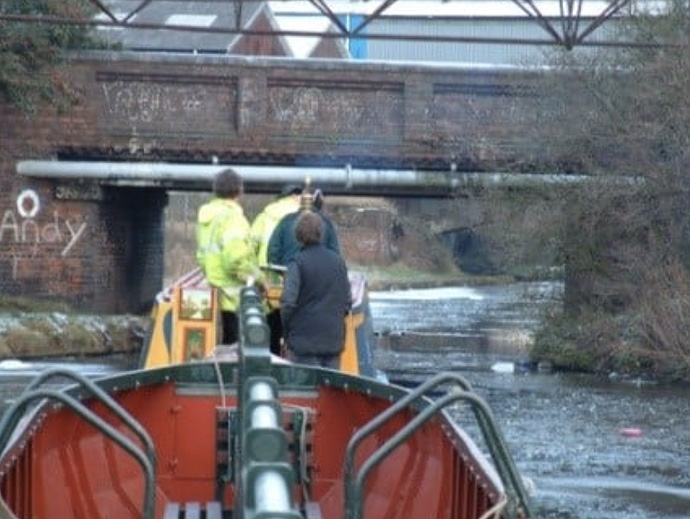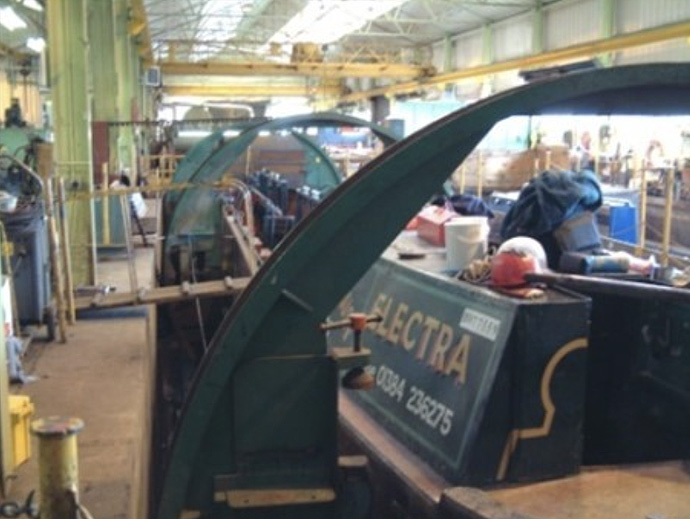 A tow by BW: some time later ELECTRA in dry dock.
Spring is in the air and I am looking forward to welcoming back our garden volunteers at the end of the month. As well as the usual tidying up around the site I will be giving them a new challenge on their return. The challenge is to revamp the allotment garden space at the back of the Gongoozler Cafe. This is a great space with a beautiful view over the canal and portal entrance. For the last couple of years students from The Meadows School have been working with volunteers growing their own vegetables. But we would like to develop the space further so that it can be appreciated and used all year round rather than just the summer months.
So, my challenge to the garden team is to create a sensory garden. Each raised bed will have plants that stimulate one of our five senses; an herb garden with pungent fragrances; a flower bed awash with colour; and a tactile bed with plants that encourage you to touch their felty leaves or run your fingers through grass fronds. In the long run I would like to work with local schools to create wind chimes and bird feeders to attract birds so that there will be sounds adding the atmosphere as visitors can sit and enjoy a coffee from the cafe.
RETURN TO VOLUNTEERING ROADMAP
We know many of you are desperate to get back to normal and have been asking when volunteer activities will resume on site. Following the government announcement last week which set out a roadmap to bring us out of the current lockdown, we can now give you a better idea as to when volunteer activities will start to resume – All the dates outlined are based on the dates published by the government in their 4-stage plan.
If the government delays any of the stages this will automatically delay the dates outlined below.
29th March – stay at home rules lifted – Garden Volunteers can return to site.
12th April – most outdoor attractions and settings to reopen – Towpath Volunteers can return to site to help with the running of boat trips. Please note the trip will be an open water trip and not the underground caverns trip.
17th May – Tunnel Tots will resume on site, although we may keep running a virtual version alongside until the end of June. This will resume on its new day, which is still to be decided.
June 21st – the government hopes to remove all legal limits on social contact – Chit Chat to resume on site on their new day.
Beginning July – Historic boats/Guest Experience Ambassadors in preparation for what will hopefully be a busy summer. We are looking to have the historic boats open on a regular basis throughout July and August.
Little Skippers – we will be looking to run a little skipper offer during the school holidays. We will aim for volunteers to return at the start of July to allow them to help with the planning and preparation of these activities as well as the delivery over the 6 weeks summer holiday period. Becci Cooper-Sayer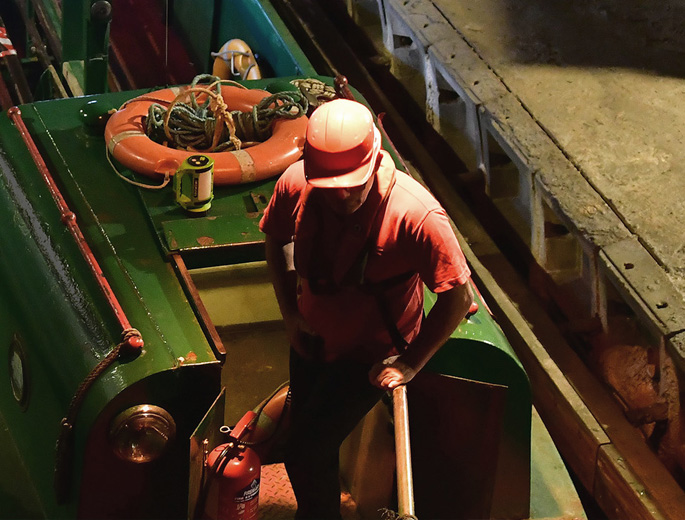 Historic Boats & Working Party & Social News
Due to lockdown we have not been able to offer our normal work party or social activities or attend boat shows. We hope to return to these soon. However, we still need more volunteers to help us with moving boats, doing site maintenance and canal clearance works and manning our historic boats at boat shows and at our main visitor site. If you are interested please contact claire@dctt.org.uk.
We would like to take this opportunity to thank all our Members who continued to support us during 2021 by renewing their subscriptions and donating to our Keep Us Afloat campaign. Every penny makes a difference to us.