Annual Review 2020
DUDLEY CANAL AND TUNNEL TRUST
Incorporated 18th September 2015
Registered Company Number – 09784120
Charity Number – 1166460
DUDLEY CANAL AND TUNNEL TRUST ENTERPRISE LIMITED
Incorporated 18th September 2015
Registered Company Number – 09784120
DUDLEY CANAL TRUST
Incorporated 17th January 1965.
Charity Number – 240545
DUDLEY CANAL TRUST (TRIPS) LIMITED
Incorporated 17th June 1983.
Charity Number – 514219
Head Office
501 Birmingham New Road
Dudley
West Midlands
DY1 4SB
Tel: 0121 557 6265
www.dudleycanaltrust.org.uk
Governance
Message from Chairman
Message from Chief Executive
Mission & Aspirations
Strategic
Enterprise
Heritage Activities
Events
Operations
Finance
Dudley Canal and Tunnel Trust
Alan Garnell – President
Jeff Luesley – Chairman
Paul Smith – Treasurer/Health & Safety
Alan Hazeldine
Kate Bennett
David Caunt
Richard Langford
James Deacon
Kerry Ingram – Board Secretary
Dudley Canal and Tunnel Trust Enterprise
Paul Smith – Chairman
Alan Hazeldine
Lyn Head
Ian Watson
Traci Dix-Williams
Megan Parker
Kerry Ingram – Board Secretary
Dudley Canals Trust (Trips) Ltd
Jeff Luesley
Alan Hazeldine
Paul Smith
Dudley Canal Trust
Peter Dodds
Alan Garnell
Richard Jones
Alan Hazeldine
Working Group
Mike Skidmore – Chairman
John Rudge
Alan Hazeldine
Chris Round
Bob Dale
At the time of writing this report we are 18 months into what has been one of the most challenging periods the Trust and all of us have ever experienced and I feel very thankful that as an organisation we are in a position to be able to report on these challenges but also reflect and celebrate many successes during the period.
Against a very difficult and worrying backdrop our team here at DCTT, The Trustees, Directors, Staff, Volunteers, Supporters and Friends have banded together and worked hard to keep us viable, moving forward and excited for our future. We have not come out of the pandemic unscathed and it's fair to say there have been many periods of worry and the need to rethink our approach. But we are here and able to welcome back visitors to the Portal Building.
Reviewing the impact of covid in the Cultural sector across the UK and more locally shows the difficult world we have had to adapt too and operate in.
1 in 10 cultural attractions had to close or were not open to visitors in 2020. Given that the Cultural market brings in around 91.6 billion pounds a year you can understand the significant drop shown, but we must also understand the wider impact of this.
The cut in hours, pay and in many organisations the loss of jobs.
Cuts in contracts, less orders to suppliers and service providers.
Those that are open have had issues with getting materials, service provision and making the sites safe to operate.
The loss of international tourism – which for many of the larger venues is a key market.
To try to entice people to visit, adult admission fees were cut by 6% across the sector, this coupled with a 64% drop in footfall – 74% drop in urban areas as people did their best to avoid crowded spaces and the loss of 84% of school visit – which are often the main source of income in shoulder months – it's no surprise to hear that cashflow was a major worry for all.
More locally the picture is just as bleak. 40% of cultural venues in the West Midlands closed, with predictions of a further 35% on the horizon.
Admission or ticket prices were reduced by 14% – this was the largest reduction in the UK and family visits dropped by 54% which echoes the reduction overall in visitor numbers to Midland venues and attractions. This all contributed to an overall loss in revenue of 58%. Now traditionally cultural venues need 70% capacity or visitor numbers just to break even – so the impact for many has been unsustainable given we are now 18 months on from the start of covid-19.
The impact of social distancing has also brought reduction in numbers as well as additional costs for equipment, new layouts in buildings and boats as well as the need for extra staff. The 2-meter social distance rule brought a 20% reduction in income generation as well as for us a reduction on boat capacity of 50% as a minimum.
With these facts and figures you can see why we are so thankful to everyone for their support in keeping this very special Trust open and operating.
Jeff Luesley – Chairman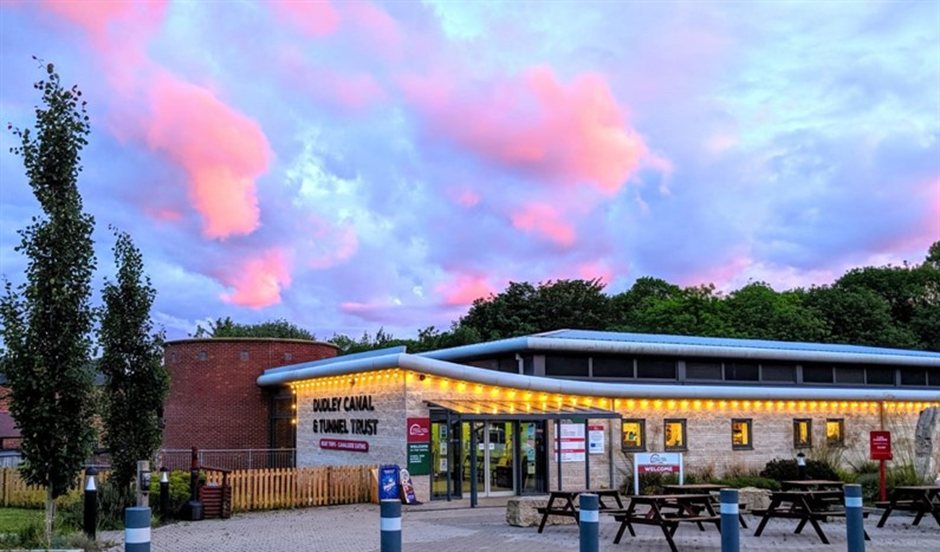 Message From The Chief Executive
As the Chairman has reported 2020 and 2021 has seen the Trust have to operate against a very difficult and unprecedented backdrop. We are not unique in this, nor has it been restricted to our sector, but for each business, how we have responded has been unique and reactionary. We hope this report gives a taste of the adversity but also the determination of the Trust during what has been an unpredictable, world reaching and rapidly changing year.
Pleasingly, in many cases we have performed favourably against the trends highlighted and the fact that we are trading is something we are thankful for, especially given that 2019 and its performance had been so poor for us. When we had to close in early March it is fair to say we thought it would all be over by May. But here we are 18 months on and still operating under covid-19 restrictions.
From the outset we recognised we would need help and it was obvious that the Cultural Sector were at the forefront of offering support and lobbying the Government to protect the cultural assets of the UK. Clearly our site with its 428 million years of history and relic landscape sat firmly within this. That said, having a gift shop, corporate facilities, and a coffee shop, also helped as the government issued some early and timely financial support to these businesses which Dudley Council ensured we were eligible for along with the latter Furlough payments to help protect jobs.
Through the Cultural Sector grants we secured emergency funds to support direct costs, business mentoring and by May– costs to support setting up covid safe business operations and quality marks such as the VisitEngland Good to Go award to promote the fact that we understood the need for safe operations and were effective in identifying and delivering these.
Having a pivotal approach was vital and something we certainly had to embrace in 2020. Legislation and rules were being issued with short lead times, our audiences were needing more and more assurances to come out and engage with us, lobbying brought pressure and caused many back tracks which we had to respond to. This brought with it the need to accelerate change, a pandemic driver for many organisations across all sectors and we certainly brought many projects and changes forward. Sadly, there were a small number of redundancies, departmental changes and we have had to introduce dynamic opening times. We worked with consultants and specialists to look at the offer and develop plans to keep our ethos and aspirations but to be more sustainable and viable in our approach for the future, are eyes were always on the future.
We also looked at all our spaces and begun to use them more productively and we have all got to grips with working from home, in the office, in the car and often whilst queuing at the supermarket.
The Trust are good friends and partners to have – but 2020 saw us asking for payback for this and I am pleased to say our "Friends" really stepped us for us. Through financial support, advocacy, on the ground operational support and as sounding boards. At a time when it was easy to feel adrift – we were not.
But, despite how it has felt at times, it has not been business as usual, nor will it be again. Along with the new language we have all had to learn, Furlough, Double Jabbed and Covidiot we will continue to embrace new ways of working and learn new business rhythms as we continue to fight forward.
It's fair to say during 2020 our focus was on surviving, but our goal was to be thriving.
Traci Dix-Williams – Chief Executive
The impact of Covid-19 has seen many charities have to dig deep just to survive.
Getting back to normal is not an option for most, new models, new ways of working and new ways of engaging are all a priority now.
The objects of the charity are –
The advancement of education for the public benefit, in particular, but not exclusively, on the history, social history, heritage, economy, geology, geography, archaeology, architecture, and other features of the Dudley canal tunnels, inland waterways, mines and its working boats.
The protection, preservation, conservation, maintenance, repair, improvement, and development, to a navigable standard, of the Dudley canal tunnels, inland waterways, mines and its working boats for the use and benefit of the public, and in particular, but not exclusively, by providing educational, historical, and recreational facilities.
PEOPLE
Strategic Aim 1 – Put our visitors at the heart of everything we do.
Strategic Aim 2 – Invest in our greatest assets, our team.
Strategic Aim 3 – Be a vibrant part of the community.
OPERATIONAL CONFIDENCE & EFFICIENCY
Strategic Aim 4 – Be resilient, creative, and adaptable.
Strategic Aim 5 – Operate to the safest levels and be an exemplar for the underground experience.
Strategic Aim 6 – Be forward looking and thinking and embrace opportunity and new ways of working.
SUSTAINABILITY
Strategic Aim 7 – Safeguard & engage with the unique environment we care for.
Strategic Aim 8 – Raise our profile and identity.
Strategic Aim 9 – Be financially aware and protect our assets and use our resources well.
With the impact of covid-19 2020 has been a year of unknowns, changing plans and approaches and fighting hard to survive. On the back of a difficult 2019 there were times when we wondered if we could remain sustainable.
Thankfully, with the benefit of looking back we can see the reward for all these amazing efforts by everyone associated with the Trust. We managed our costs, secured external funding and support, and achieved this at key times for our business and its needs.
We had to review every aspect of our operation and make some difficult decisions such as redundancies and the cessation of some of our activities. We called in favours from partner organisations, negotiated with our suppliers and looked to the cultural sector for funding, advocacy, and recognition of what a cultural loss it would be if the Trust had to stop operating.
We were able to recruit Trustees and Directors to join us and help with planning for our future, with the funding support we worked with business development advisors and brought in consultants to look at many aspects of our operation. We revisited our spaces inside and out to make them suitable for ensuring safe covid operations and give us new opportunities and we accelerated a range of projects we had planned to offer more saleable offers, increase dwell time and interpretation and engagement on the site and in the tunnels and caverns. We looked to improve operational ease as we recognise, we are a very complex, legislated, and costly business to operate.
Sadly in 2020 we were only able to open for 15 weeks but we ensured our site had an amazing offer which was awarded the VisitEngland "Good to Go" quality mark and in a real boost to morale we learnt that we had also been awarded the Queen's Award for Voluntary Services.
Visitor, staff, volunteer, and contractor safety on site was paramount for us as well as ensuing the safety of the community in which we are located so it was always our approach to go over and beyond in terms of safe operations and covid-secure processes. A safety advisory group made up of all departments, stringent access to site and covid-19 specific risk assessments were just a small part of what was implemented, reviewed, and upheld. Our approach was always to move cautiously forward and to stay informed. This worked very well for us and feedback from visitors and guests is that they felt in very safe hands and were comfortable and assured in their visit.
Getting support from Grants and Emergency funding was vital to keep us sustainable for the year, even looking at alternative income generation options could not bring in enough to manage all our fixed costs. We worked with a Business Consultant funded by the Heritage Fund who took us right back to basics of cash flow planning and monitoring, reviewing assets and visitor offer which worked very well for us. It has been the most worrying, stressful time for everyone, both personally and as a business – but its clear the fighting spirit of the Trust continues as it always has.
Dudley Canal and Tunnel Trust is represented on several groups and associations.
The Innovation Way Group which encompasses all the major development projects taking place across the borough.
The Castle Hill Attractions Group heads of marketing for all attractions and the council look to develop joint offers and promotions, map visitor journeys and experiences and share expertise on marketing and promotion.
The Lapal Tunnel Advisory Board Providing support and guidance.
Dudley Local Cultural Education Partnerships championing the best of cultural education for the youth of Dudley borough.
Age Friendly Museum Network West Midlands sharing and promoting beneficial work in the region. The network believes museums and older people enrich each other and that aging is a shared experience.
Cultural Health and Wellbeing Alliance bringing together cultural and wellbeing organisations to promote and share new ways of working.
The Dudley Town Fund Board – Businesses and stakeholders working together to support development and investment in Dudley Borough.
The Forging a Future for All Board – Organisation that work collectively to drive the seven aspirations that show Dudley as a great place to live, work, visit and learn within.
Read any headlines and you will see just how hard hit the retail hospitality and leisure industry has been. With many across the UK losing jobs, being furloughed and being careful with their hard-earned money it was no surprise our trading activities were hit. The loss of the corporate and meeting market was a big blow as we had just spent the last two years growing this market and had several regular bookings and weddings secured.
Most of our trading activities on site are tied into footfall, the limited opening and reduced numbers on each boat certainly had an effect. That said, when people were on site, they were generous in supporting us and we thank them for this.
Our biggest challenge however came towards the end of the year with the loss of the Christmas event. This was fully sold out and the new layout and delivery plan that the whole DCTT team had developed was going to really add to the visitor experience. Traditionally the income from this event supports us during the low season of January to March, but the continuing Tier 3 status for Dudley meant we could not reopen till May of the following year.
We have applied for government grants to support the sector but like everyone else we are working towards getting back to operating again and making our spaces available to our customers.
GIFT SHOP
The need for social distancing saw us have to reduce our Gift Shop by 50% in terms of retail space. In addition to the reduced numbers on site this saw the shop having to work hard for every sale.
Industry wide the import issues and latter delivery driver shortage impacted our stock levels and choice, especially on our more popular lines. We also incurred additional costs in terms of setting up a covid secure site with protections screens, enhanced cleaning especially where the visitors interact with our staff, and the purchase of PPE and specialist cleaning products.
That said, we were luckier than many other organisations in that we had space to introduce a very effective and generous social distancing route through not just the shop the whole building.
CATERING
Through support from the Cultural Recovery Fund Round 1 we were able to work with a Catering and Hospitality consultant to review, analyse and develop ideas for our catering offer. Unfortunately, we did have to make a couple of staff redundant from the department and a skeleton team took the offer forward when we were open. Having space to extend the outside seating area and the balcony was a huge bonus for us as it allowed us to stay operational when many others had to close.
Despite promoting the Gongoozler being open, the main trade came from our boat passengers rather than walk in trade. However, to maximise awareness of the venue and bring in some additional trade we also offered a takeaway service, especially for Mother's Day and breakfast deliveries to the local construction companies.
COPORATE
Our 2019 growth for corporate events and hospitality functions had been buoyant and at the start of 2020 this had grown. But, sadly nearly all of these dropped away as both the restrictions and the need and restrictions for meetings and celebrations tightened.
The growth of virtual meetings and people being able to work from home has been and will continue to be a challenge as many businesses embrace new work approaches and find ways to get together much easier and more cheaply in the digital world. This is something the Hospitality and Meeting organisations will now have to work hard at to recover the trade. With many weddings having to be cancelled one of the approaches we have taken is to extend our wedding license to the whole of the site and to put plans in place to make it more available throughout the year.
Due to social restrictions, it was not possible to use our Vic Smallshire dining boat during 2020 but we were able to swap a couple of bookings to the open water boats which worked well. Thankfully the weather in 2020 was very much on our side for this. Plans have now been developed to extend the trading period on Vic Smallshire by adapting the boat to run more electrical equipment and heating which has been funded through a grant.
COMMERCIAL EVENTS
2020 had been the year for our new Alice's Adventures Underground – an Easter offer which we had planned to develop into a commercial event along the same lines of the Halloween and Christmas offers. This has raised a lot of public interest and though we were not able to again put it on in 2020 we will look to 2021 to launch it.
Initially we also thought that we would not be able to put on the Halloween event but pleasingly it did go ahead. We did have to reduce costs as we were being very careful with our finances and so the usual UV Groovy show was replaced by a digital show. It was clear our visitors did not like this change, and we did receive a few complaints. That said the event sold well and there was a lot of positive feedback – especially as many other venues had cancelled there offers.
To comply with social restrictions the Christmas event was adapted with an above ground Santa experience and with funding from Cultural Recovery Fund and time to really concentrate on set up and presentation we were really excited about this event, especially as it was sold out. However, with Dudley going into Tier 3 status at the beginning of December and the caverns therefore being classed as an indoor venue we were forced to cancel the event and close with no idea when we would be likely to reopen. This was a huge blow to moral and a financial hit as we had to quickly refund all the ticket sales. We were worried this would result in negative feedback and though there were a couple of comments on our social media it was pleasing to see how many messages of support there were.
Though for all the right reasons we were very sorry to receive a resignation letter from the Heritage Engagement Manager at the start of the year and this did cause us to rethink some of our approaches to the department. Mid-year, unfortunately we had to make the assistant role redundant as it became obvious there would be no school bookings for at least the rest of the year. The remaining team were managed by the Chief Executive, and they absorbed several new duties such as the Waterside Gallery, developing displays for Tunnel Treasures and looking at new ways to deliver our informal learning and routes to engagement.
LEARNING
Due to the staff changes and lack of market in 2020 the learning department was moth-balled whilst we reviewed the offer through working with an Education Consultant who in turn worked with over 100 service users and schools. From this an in-depth report looking at the current offer and future requirements was produced which we will be reviewing and instigating a new offer in 2021.
Digital Learning opportunities were put on our website as a free download and we began working on several projects to add self-led additional learning to the site with new trails and offers such as a "Learn through Play" adventure park which engages visitors with a range of topics such as geology, boats, canals, wildlife, and the environment. 120sqm of additional interpretation based on 360-degree access to the towpath, something that had not been available prior to Covid-19.
We began work to refurbish our Historic Boat Sagitta to once again act as a floating classroom and added a whole range of new themes to her offer. This gives us opportunities to host schools on-site, on a real working boat, but also to continue to take her out to festivals and boat shows to offer outreach opportunities. Whilst onsite, Sagitta will work with our other historic boats to offer visitors a chance to learn how a range of work boats worked in conjunction with each other.
VOLUNTEERING
Initially all volunteering opportunities with the Trust stopped at the start of lockdown but we did start to see a targeted and slow return in some areas as we were able to open, particularly support on the towpath and digital support to host Digital Chit Chat and Virtual Tunnel Tots. Restrictions on opening was a major factor for this but also a duty of concern for our volunteers and service users, many of whom were self – isolating or had transport issues.
Despite the reduced volunteers on site, it was still very exciting to hear we had been given the Queens Award for Voluntary Services. This is an amazing and well-deserved accolade, and we would like to take this opportunity to thank everyone involved in helping us achieve this. It is our plan to celebrate in style when the restrictions are lifted.
Through voluntary support we offered over 150 digital engagements with talks, presentations, and storytelling. Initially take up for these was very good but it did waiver towards the end of the year.
EXHIBITIONS
Though restricted we were really pleased to continue to offer local artists opportunities to show in our Waterside Gallery space and the team all pulled together to produce two new exhibitions in Tunnel Treasures looking at Covid-19 and the history of pandemics and later the impact of waste and negligence on our canals. Though small both were thought provoking exhibitions which tied into key themes and concerns of the time.
Our ability to run boat trips which have capacity numbers onboard is vital to our operations and so the enforced closure from March to May 2020 had a massive impact on income generation, on boat trips but also secondary spend which is tied to footfall on site. We were able to open for 15 weeks between May and November but the Tier status and rising infection levels in the area saw us close to visitors in December 2020. Though closed we used the time effectively to deliver a range of projects and complete essential maintenance work on site.
STAFFING
Initially we could not see how we could continue and after again reviewing all our costs, potential sources of income and even sales of assets, redundancies were explored for most of the staff as, like most businesses our wages are our biggest outgoing. Due to a poor trading year in 2019, we had already implemented pay and hour cuts for the Management Team, combined roles and departments and cut hours across the board, but these cuts were not enough to offset the losses of closing the business.
Thankfully we were able to halt the redundancies with the introduction of the Government furlough scheme. All but one staff member was furloughed, and the Chairman and Treasurer took over the running of the Trust until, through the support of a grant from the Heritage Emergency Fund we were able to bring back a small skeleton team to get the site back up and running whilst many others complied with the work from home request. Though this was strange initially, we soon developed a way forward which saw a staggered return to work and defined onsite hours for all staff.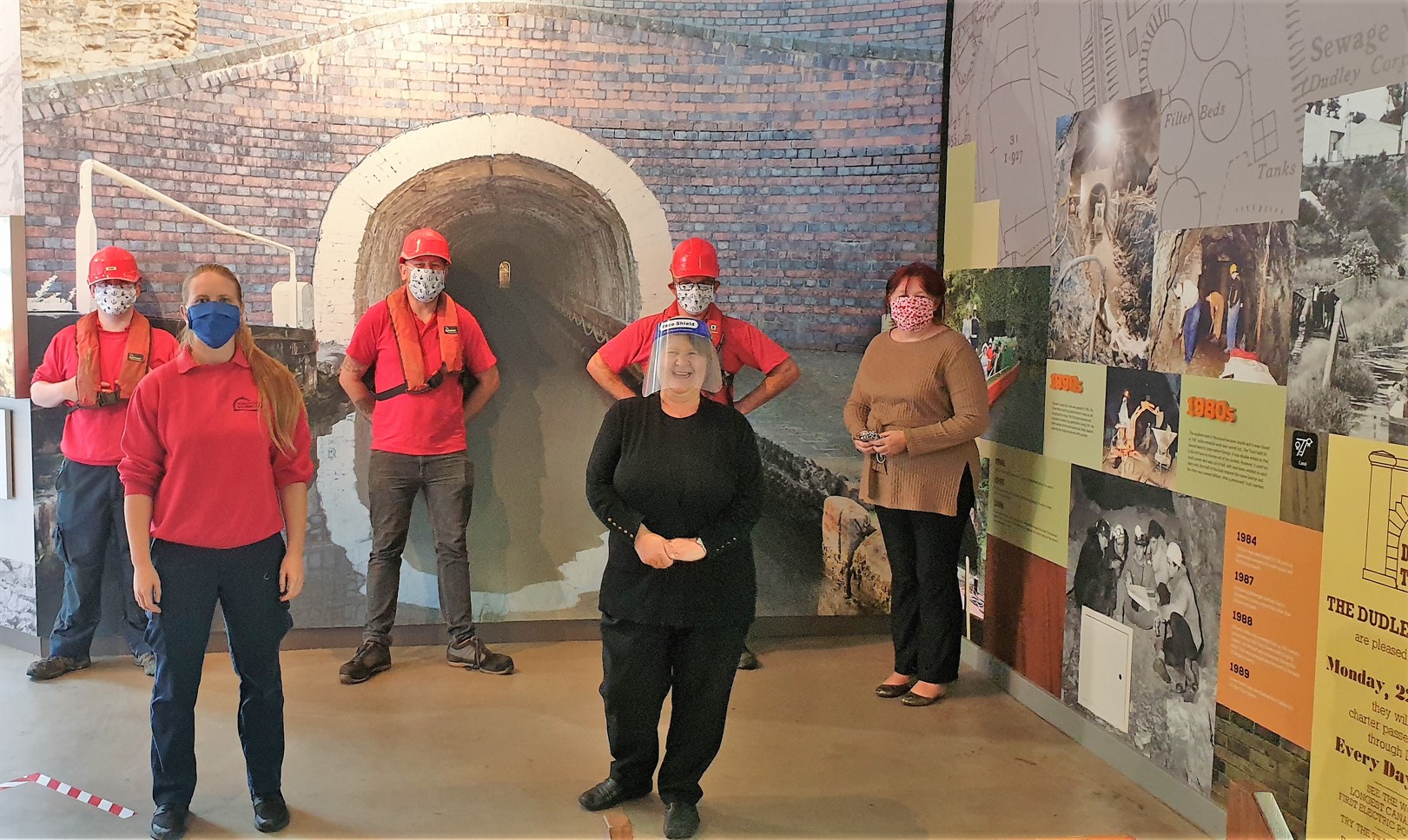 THE SITE
Thankfully our site, the Portal Building and the boats were easy to adapt to comply with social distancing requirements, thought this meant a 50% reduction in our visitor capacity.
A Safety Advisory Group was set up with representatives from all department s and a new way of operating, covid specific risk assessments and changes to procedures were introduced which saw us being awarded the VisitEngland Good to Go quality mark.
Permission was granted from Maritime Coastguard to make changes to the staffing on the boats and in time permission from DEFFRA came through to run the trips again. We had to undertake a very intense and thorough mine inspection as the caverns had been closed with no daily checks. We were also aware of trespassers during the closure and as we later discovered vandalism, damage and theft from the tunnels and caverns. This inspection was done in conjunction with Dudley Council, specialist contractors and the emergency services and given the issues we had experienced in 2019 with rock falls, we were anxious about what we would find. Thankfully the inspection went well and within the week we were signed off and fully able to reopen.
IMPROVEMENT WORKS
During lockdown, three of our boats were fully stripped and repainted. George had its engine refurbished, and work began on adding a disabled lift to a second passenger boat. We identified a route to improve electric and heating to Vic Smallshire and new electric charging boxes were added to the Portal side of the site. Cost saving LED lights were added to the tunnels and mines along with new projectors in the caverns.
Accounts have been produced for the four organisations – See separate reports for full accounts
Dudley Canal & Tunnel Trust.
Dudley Canal & Tunnel Trust Enterprises Ltd.
Dudley Canal Trust (Trips) Ltd.
Dudley Canal Trust.
PRECISE OF ACCOUNTS
Without the additional support from grants, the Trust would have again seen itself facing a very challenging year. The main grant was the Culture Recovery 2020 grant which covered the period October to March 2021, and which offset staff costs as well as fixed costs and supported a range of improvement projects.
Dudley Canal & Tunnel Trust
| | 2020 | 2019 |
| --- | --- | --- |
| Operating income | £104,381 | £295,252 |
| Other income | £1,625 | £4,247 |
| Gift Aid | £23,063 | £37,122 |
| From Maintenance Fund | £19,300 | £0 |
| Operating expense | -£414,243 | -£569,238 |
| Difference | -£265,874 | -£232,617 |
| Donations | £6,019 | £13,786 |
| Grants | £330,979 | £2,983 |
| From Commercial Company | £1,500 | £39,490 |
| Income/Loss | £72,624 | -£176,358 |
| | | |
| From Reserves (DCT & Trips) | £51,072 | £119,734 |
| Income/Loss | £123,696 | -£56,624 |
Commercial Company (Enterprises Ltd)
| | 2020 | 2019 |
| --- | --- | --- |
| Operating income | £83,821 | £378,501 |
| Cost of sales | -£37,202 | -£123,030 |
| Operating expense | -£138,520 | -£251,083 |
| Grant | £25,000 | £0 |
| Income/Loss | -£66,901 | £4,388 |
| Bounce Back Loan | £50,000 | £0 |
Dudley Canal & Tunnel Trust
| | 2020 | 2019 |
| --- | --- | --- |
| Withdrawn from reserves | -£50,413 | -£116,873 |
| Reserves at end of year | £9,175 | £59,926 |
| Assets, book value | £96,475 | £96,475 |
Dudley Canal Trust (Trips) Ltd
| | 2020 | 2019 |
| --- | --- | --- |
| Assets | £1,019,954 | £1,035,398 |
| Loan | -£483,016 | -£420,248 |
| Loan interest paid | £0 | -£16,752 |
| | 2020 | 2019 |
| --- | --- | --- |
| Operating | | |
| Income/Loss | £5,723 | -£171,970 |