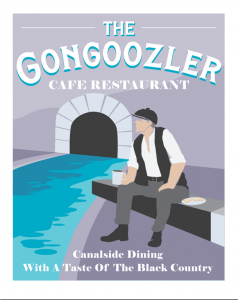 With our amazing sunny balcony overlooking the canal and our bright an airy restaurant, The Gongoozler is a popular place to fill up on great value food and sit back and relax.
With its friendly staff, fully licensed bar, changing menu and dog friendly garden, everyone is made to feel welcome. Whether you are looking for a full blown meal or just a drink and a snack the Gongoozler is an ideal place to visit.
BREAKFASTS
Start the day with our popular breakfasts, Brunch, Full Black Country or a vegetarian breakfast are just £8 and includes a  hot drink.  Alternatively go for the Big One from £11 and set yourself up for the day. Whatever you choose, you can add extra's from just £1.00 per item.
LIGHTER OPTIONS
Jacket potatoes, fresh made sandwiches and cobs and a bowls of hot tasty soup will chase away the hunger pangs. With a choice of Gluten Free, Vegetarian and and Vegan food options we are sure we will find you something to suit. Prices start from just £2.20 to £5,00 so it won't break the bank.
MEALS
Check out our specials boards and menu if you want a heartier meal, burgers served with chips and salad garnishes, fish, chips and mushy peas or Black Country fare such as faggots and peas are on offer. If you want to follow up with something sweet, cakes, cookies and ice-cream are always available.
SPECIALS
Afternoon tea from £13.50 with unlimited tea and coffee is a very popular treat. Please note 48hr booking required.