Enjoy a Relaxing Trip Along the Dudley Number 2 Canal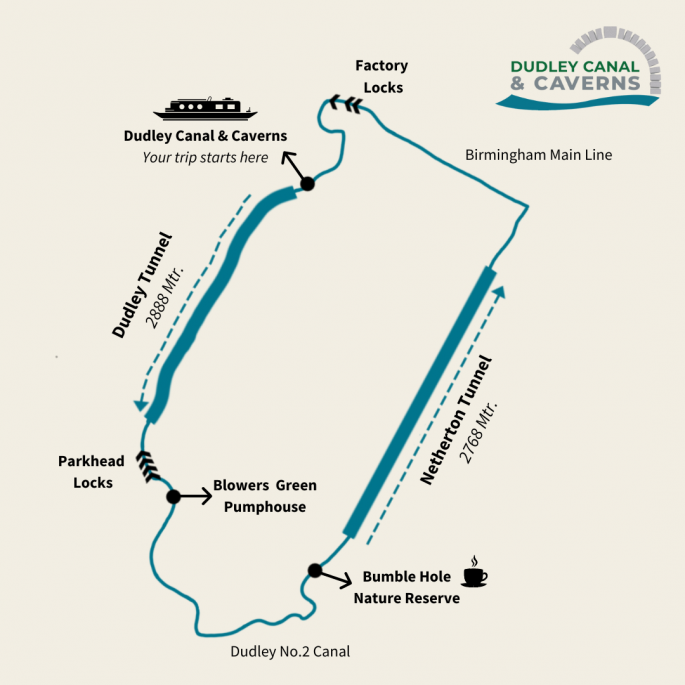 2024 DATES:
21st April, 19th May, 16th June, 6th July, 21st July, 27th July,  3rd August, 18th August, 15th September, 20th October
The trip boat sets out from The Portal through the Dudley Tunnel then down a striking flight of locks at the Parkhead Conservation Area, along the Dudley number 2 Canal before arriving at Bumble Hole Nature Reserve and the historic Cobbs Engine House.
Here we stop for a 30 minute refreshment stop before continuing through the Netherton Tunnel, up Factory Locks onto the Birmingham and Wolverhampton main line before returning to Dudley Canal & Tunnel Trust.
For your comfort the boat has a toilet.
Essential carers travel for half price, please note a carer's network card or PIP cover letter will be required to qualify for discounted carer price.
The boat departs promptly at 10am; please arrive at least 15 minutes before to ensure you have adequate time to board.
It's also possible to book this trip for a private group for £1000.00
TIPS TO MAKE YOUR JOURNEY MORE ENJOYABLE
Bring a cushion – though you can stand up, get off the boat and move around its always nice to have a comfortable seat.
Though you can purchase refreshments on board you can also pack a picnic to enjoy on the boat or in the nature reserve. Alternatively why not book a picnic from our Gongoozler Restaurant – it can be waiting for you at the start of your trip.
To book please call the Gongoozler on 0121 557 6265 ext. 212
The Picnic bags consist of
Bap with cheese or ham or tuna mayo
Sausage rolls
Chocolate bar
Scratchings or crisps
and a Bottled drink
£6.00pp – substitutes and dietary alterations available, just ask!
Bring a camera – this trips takes you through an amazing landscape rich with heritage, engineering feats in canal building and amazing wildlife.
Due to the boat layout we cannot guarantee specific seats but we will do our best to try to seat your party together.  If you are a larger group arrive early for first boarding.