Winter Nights by Christmas Lights, Santa Boat Trips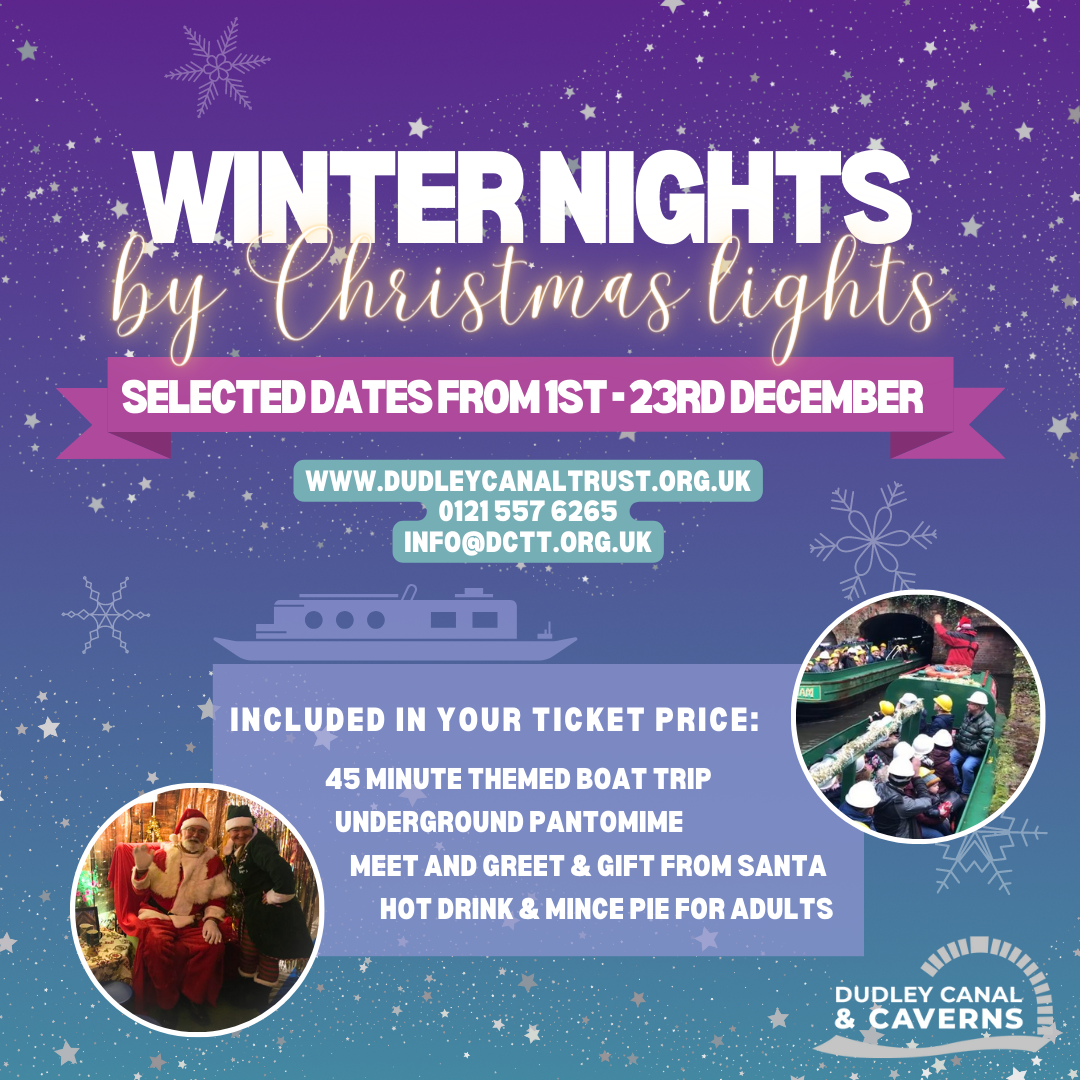 THIS EVENT IS NOW SOLD OUT!
Climb on board and journey through our festive tunnels and enjoy our Winter Nights by Christmas Lights, Santa Boat Trips.
On your 45-minute boat trip we will transport you to a magical "Christmas Wonderland." Our caverns and tunnels will be beautifully lit and decorated to create a breath-taking atmosphere. Be sure to brush up on your traditional carol and Christmas classic lyric knowledge and practice your very best panto boos and cheers as you sit back and enjoy Krazy Kris and his festive show.
It will be a real musical and visual experience that you won't forget!
After your trip you disembark and join Santa and his elves in the Christmas Workshop that is located in our main building. With a gift for every child and a hot drink and mince pies for the adults, everyone gets a treat during this amazing experience.
Remember to bring a camera as there will be opportunities to take a Santa Sleigh Selfie with the elves.
These trips go fast so make sure you book early to avoid disappointment.
If you need wheelchair access book the boats on the hour time slot – they have a lift to assist access. These spaces are limited so you MUST call the office on 0121 557 6265 or email info@dctt.org.uk to reserve. 
Friday 1st, 8th & 15th – Slots run half hourly from 4pm-8pm
Saturdays & Sundays before Christmas – Slots run half hourly from 10.30am-6pm
Tuesday 19th – Friday 22nd – Slots run half hourly from 4pm-8pm
TIPS TO MAKE YOUR JOURNEY MORE ENJOYABLE
Wear a Christmas Jumper – Santa loves to see them.
Make a day of it and pop in our Gongoozler Restaurant for a Christmas snack or meal.
Bring your best singing voice – the skippers really enjoy singing popular Christmas songs.
Bring your camera – there will be a lot to see during your boat trip.
Have a look around our Gift Shop – there are plenty of Christmas gifts and novelties.
Leave plenty of time to get to us
The traffic around us can be heavy and could cause delays. Due to the booking system we cannot guarantee you an alternative slot if you miss your booking time.