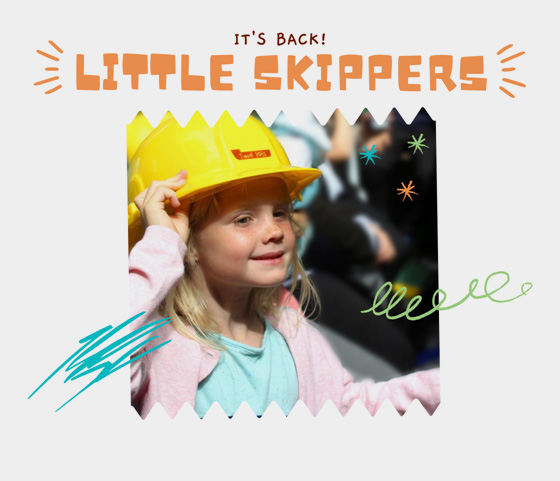 It's the school holidays and that can only mean one thing – time for Little Skippers!
Join us during the Easter holidays and enjoy some fun-filled crafts. Activities will run every Sunday, Monday and Tuesday throughout the holiday.
From 10th April to 19th April, our theme is Egg Decorating and Bunny Crowns.
Children can enjoy some quiet in our book corner where they can discover a prehistoric world or what lies beneath our streets. Our storytelling volunteers will be on hand to share tales of Easter adventures and creatures.
Whether your little skippers enjoy craft, building blocks, stories dressing up or discovering a small world, there is lots to enjoy at Little Skipper's Holiday Activities.
Don't forget our Little Skipper's Explorer park is open every day of the holidays, along with our Little Skipper's Wildlife trail, pick a free trail booklet from the foyer.
And if you are going on a boat trip, don't forget to grab a Little Skipper's Fossil Trail.
We're delighted to offer a new way of buying tickets for Little Skippers! Tickets for our activity room are available for just £3.00 per child, adults and under 1s are free! If you'd like to add on a 45 minute boat trip, Little Skippers visitors will receive a discounted price of £1.00 off per person! You can book on to any of our available trips on the day to suit you. Got a gift-aid return ticket already? Use that for a free trip! Not got a gift aid return yet? Buy a regular-price ticket for our 45 minute trip when you visit and enjoy free return visits for a whole year!
Our activity room will be open from 10.30am to 3.30pm, with the last admission being at 2.30pm so you can stay and play as long as you like; we suggest that our activities will take about an hour to enjoy. 45 minute trips will be departing every half hour from 10.30am to 4pm throughout the day; just head downstairs once you've checked in to book on!