"You will be appreciated and valued."
One of our awarding winning volunteers, Lyn, tells us what inspired her to volunteer.
How long have you been volunteering with Dudley Canal and Tunnel Trust?
I started volunteering in April, 2016.
What inspired you to volunteer?
Volunteering was something I always wanted to do after no longer being in full time employment. Throughout my life I have always given my time freely to various organisations. For many years my husband, myself and two friends ran a children's carnival marching band. This involved training them, making uniforms, keeping a coach on the road to transport them to and from competitions. We also offered our services to many charity organisations to help with their fund raising efforts. As we were self funding we also had to organise our own fund raising.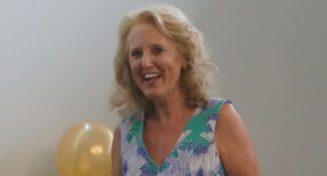 The opportunity for me to volunteer with DCTT came about when the company I was working for went into administration. Although suddenly finding myself unemployed was daunting it gave me the chance to focus on what I really wanted to do going forward and subsequently the ability to volunteer.
Why did you choose Dudley Canal and Tunnel Trust?
My main focus when thinking about what area I would like to volunteer in was the elderly to combat loneliness and children. Volunteering with DCTT gives me the opportunity to cover both of these areas with Chit Chat which is for everyone not just the elderly and then Education and Learning which is school groups with children of all ages. I have also been able to represent DCTT at community functions which is a great opportunity to promote what DCTT has to offer. I have also volunteered at the Beer Festival, Little Skippers, various evening events, there are always opportunities to do something different should you want to.
What do you enjoy most about volunteering?
I enjoy volunteering for many reasons which include giving time to a worthy cause, being involved with not only the organisation but also other volunteers and visitors. It is so rewarding to see how Chit Chat has grown over the years and what it means to the people that attend.
What would you say to anyone who was thinking about volunteering?
For anyone thinking about volunteering I would say go for it, You will be appreciated and valued and there are opportunities to try various roles to enable you to decide what it is you really enjoy doing. You also have the choice to commit to whatever time you want to give, just be reliable. Throughout your life you should never stop learning and volunteering gives you this opportunity.
An interview with Cynthia and Ron, our volunteer duo!
How long have you been volunteering at Dudley Canal and Tunnel Trust?
Cynthia: Ron and I have been volunteering at the DCTT for the past three years.
Why did you decide to volunteer?
Ron: We both wanted to feel useful after our retirement as well as learning new skills and meeting people. The trust has fulfilled those needs.
What do you do as volunteers?
Ron: I work on the towpath and really enjoy meeting people and helping; as well as the banter of colleagues, both volunteers and staff.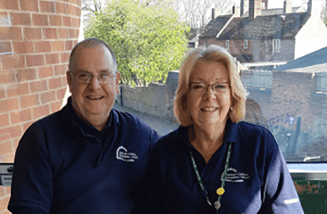 What do you enjoy most about volunteering?
Cynthia: Although because of other commitments I do not work on a regular basis I thoroughly enjoy working with schools. I have always worked in elderly care ,so working with the children is a complete change for me.
What is your favourite volunteer memory?
Ron: My most memorable moment from last year is being nominated for the Visitor Attraction Volunteer of the Year Award
Cynthia: It really made him feel appreciated.
Ron: Of course winning was a bonus.
Cynthia: I really enjoy the themed nights pirates and mermaids and the Harry Potter nights, as everyone makes such an effort and the children and parents thoroughly enjoy the evenings.
What would you say to someone who was thinking about volunteering?
If someone is thinking of volunteering I would recommend it especially with DCTT , you will receive training , meet new friends and feel supported by the staff.