Culture Recovery Fund for Heritage
Dudley Canal and Tunnel Trust receives £154,900 in funding from DCMS Culture Recovery Fund for Heritage
Everyone at Dudley Canal and Tunnel Trust is thrilled to hear we have received funding thanks to the government's #CultureRecoveryFund, this vital support will allow us to continue to engage visitors with our amazing space and be #HereForCulture.
More than £44 million has been awarded across the country to 470 cultural organisations in the latest round of support, the Culture Secretary announced today and this second round of awards will help organisations to look ahead to the spring and summer and plan for reopening and recovery.
After months of closures and cancellations to contain the virus and save lives, this funding will be a much-needed helping hand for organisations transitioning back to normal in the months ahead.
Culture Secretary, Oliver Dowden, said:
"Our record breaking Culture Recovery Fund has already helped thousands of culture and heritage organisations across the country survive the biggest crisis they've ever faced. Now we're staying by their side as they prepare to welcome the public back through their doors – helping our cultural gems plan for reopening and thrive in the better times ahead."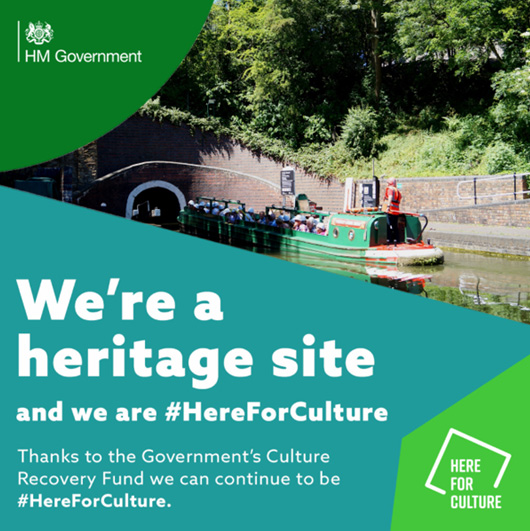 Chairman, Dudley Canal and Tunnel Trust – Jeff Luesley, said:
We were overwhelmed to get support from the first round, now getting the news that we have received additional funding is just incredible. The team have worked so hard over this incredibly difficult year and this support will let them keep on doing this.
Chief Executive, Dudley Canal and Tunnel Trust – Traci Dix-Williams, said:
This is amazing news – we want to say a huge thank you to DCMS, Heritage Fund, Historic England and everyone else involved in helping us receive this funding. Through the first round of funding we were able to achieve so much, making new additions to site, working with consultants and staying viable, this funding will allow us to finalise all our plans and be ready to re-open and get visitors back on our site.
The awards are part of a wider swathe of funding across culture, heritage and film, with over 2,700 organisations offered nearly £400m in grants and loans to help them reopen and recover.
#HereForCulture
@dcms
@HeritageFundUK
@HistoricEngland.